Invisalign Teeth Straightening
Invisalign Teeth Straightening
Dr Emma Davison who owns the Holistic Dental Centre in Farnham now offers Invisalign teeth straightening. This means that there is no longer the need to place metal in your mouth to straighten your teeth!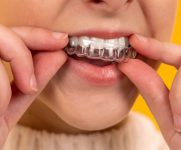 There are many reasons why people choose to have their teeth straightened. Some people want a nice even smile, others have their teeth straightened to help with cleaning. As an adult, no matter what age you are, straightening your teeth can be life changing.
Crooked teeth are harder to clean, and may lead to oral health problems like decay and gum disease. So, by straightening your teeth you are giving yourself a better chance of avoiding tooth decay and other problems in the future.
The aligners are completely removable, so you can eat and drink as normal.
In terms of overall Invisalign treatment time with us, it can be as quick as three months, but most cases fall in the range of six to 12 months. The length of your Invisalign treatment will be directly affected by the number of aligners you need to wear.
This is a photograph taken before Invisalign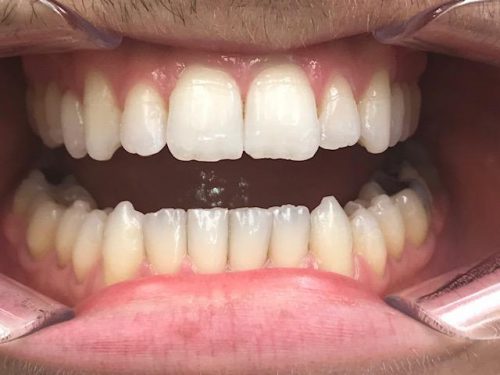 This is the end result after 4 months of Invisalign
We offer affordable 0% finance options and we can set this up once you have had your consultation.
As a bonus for Spring 2022, and at no extra cost, we are including whitening (worth £495) with each Invisalign case.
If you would like any further information on Invisalign, please email us info@holisticdentalcentre.co.uk or telephone us on 01252 820004 and we can book you in for a FREE Invisalign photo assessment to see if it works for you.
In the meantime, if you would like to have a preview of how your teeth could look then click the link below and take one selfie….easy as that!
Let's get started with your new smile – Click HERE
---