Corona virus update
I would like to take a few moments to let you know what has been happening at the surgery over the last few weeks. As you can imagine, things have been changing rapidly. On 23rd March we were advised by the Chief Dental Officer for England that we were to stop seeing all patients in person and to operate an advice-only remote service.
I have diverted the practice telephone line to my house Monday to Saturday for you to speak directly to me between 10 am and 4 pm. There will be the odd time when I may not be available, so please email, as I am monitoring emails daily if I cannot get to the telephone.
If you call, I am able to give telephone advice, and possibly antibiotics if appropriate. I can speak to pharmacies so that remote prescriptions can be dispensed to our patients. I have an arrangement with a local private specialist practice to see our patients for acute emergencies.
Many of our patients travel to see us, for those of you who live in or around London, there is a full NHS emergency dental service at King's College:
Urgent Dental Care – London
Ground floor, Dental Institute, King's College Hospital, Denmark Hill, London, SE5 9RS
Patients with the following urgent dental problems can self-refer to King's by calling 020 3299 5608 from 8 am, Monday to Friday.
• Severe dental infections
• Facial swellings
• Recent dental trauma
If you live elsewhere and are struggling with a dental problem, please contact me and I will attempt to find an urgent dental care centre nearer to where you live.
I thought it would be useful to remind our lovely patients in a time when we are worrying about others keeping safe that we must also be mindful to take care of ourselves, ensuring we eat well and exercise daily within the rules from home. Many of us will be experiencing increased worry and anxiety at this time, whether it be about the health of loved ones (or the nation as a whole,) or financial worries. A dental colleague, from Elmsleigh House whom I respect greatly, has passed on a guide giving practical advice on understanding and managing your worry. We would like to give full credit and our appreciative thanks to Psychology Tools for producing this guide and hope you find it useful.
I have also passed this on to the rest of our 'Holistic Family' – Sharon, Rohini, Gareth, Rebecca, Polly, Julie, Adrienne and Nav.
Please click here to view it.
TIPS
Set a routine – maintain a regular time to get up and go to bed. Eat at regular times, and get dressed and ready every morning. Timetable your day if that helps give it structure.
Stay mentally and physically active – when you plan your daily timetable, include pleasure, achievement and closeness activities to maintain balance.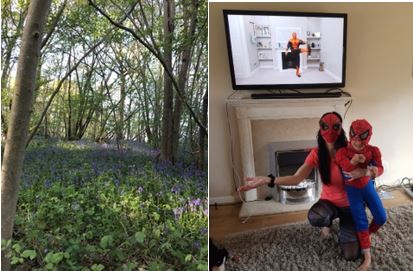 Above is a photo I took yesterday. I have been walking with the family (even the reluctant teenagers!) and doing PE with Joe Wicks every day. He does a Fancy Dress Friday. Sharon and Oscar have dressed up!
Practice gratitude – reflect on what you are thankful for each day; encourage others to do the same.
Notice and limit worry triggers – as the health situation develops, we may feel we need to constantly follow the news or check social media for updates. If this triggers worry and anxiety, limit the time you are exposed to worry triggers each day. Maybe listen to the news at a set time each day only, or limit the amount of time you spend on social media.
Rely on reputable news sources – be mindful of where you are obtaining news and information and choose reputable sources, such as the NHS, Government guidelines and World Health Organization.
Establishing regular mealtimes can help with routine over this time. A diet balanced in vitamins, minerals, fresh fruit and vegetables is good for your overall health as well as helping to prevent tooth decay and gum disease. Take time to cook new and healthy recipes, and ensure you have some rest days from alcohol.
Remember to drink plenty of water to keep your body hydrated and your mouth healthy; drinking water after each meal or snack helps wash away food particles from your teeth and prevents dry mouth and bacterial growth that leads to tooth decay.
While we are closed, if you need any dental supplies, including temporary filling material. These can be ordered and delivered direct to your door from the following link:
https://yourdentistrecommends.com/ref/Mercury-free/
In the meantime, we hope everybody keeps well, safe and strong, and we look forward to welcoming you to Holistic Centre Dental as soon as we are able.
---